We recently hosted an exclusive Redbreast tasting Evening IN The new Friend at Hand Extension
Our guests were among the first to experience the prestigious new space, home to the largest collection of Irish whiskeys in the world.
There is an impressive collection of rare artefacts, collectibles, and vintage mirrors, all surrounding a rare carpet woven in Killybegs by the same factory that produced carpets for the Oval Office in The White House and for Buckingham Palace. A truly special experience for our whiskey loving friends.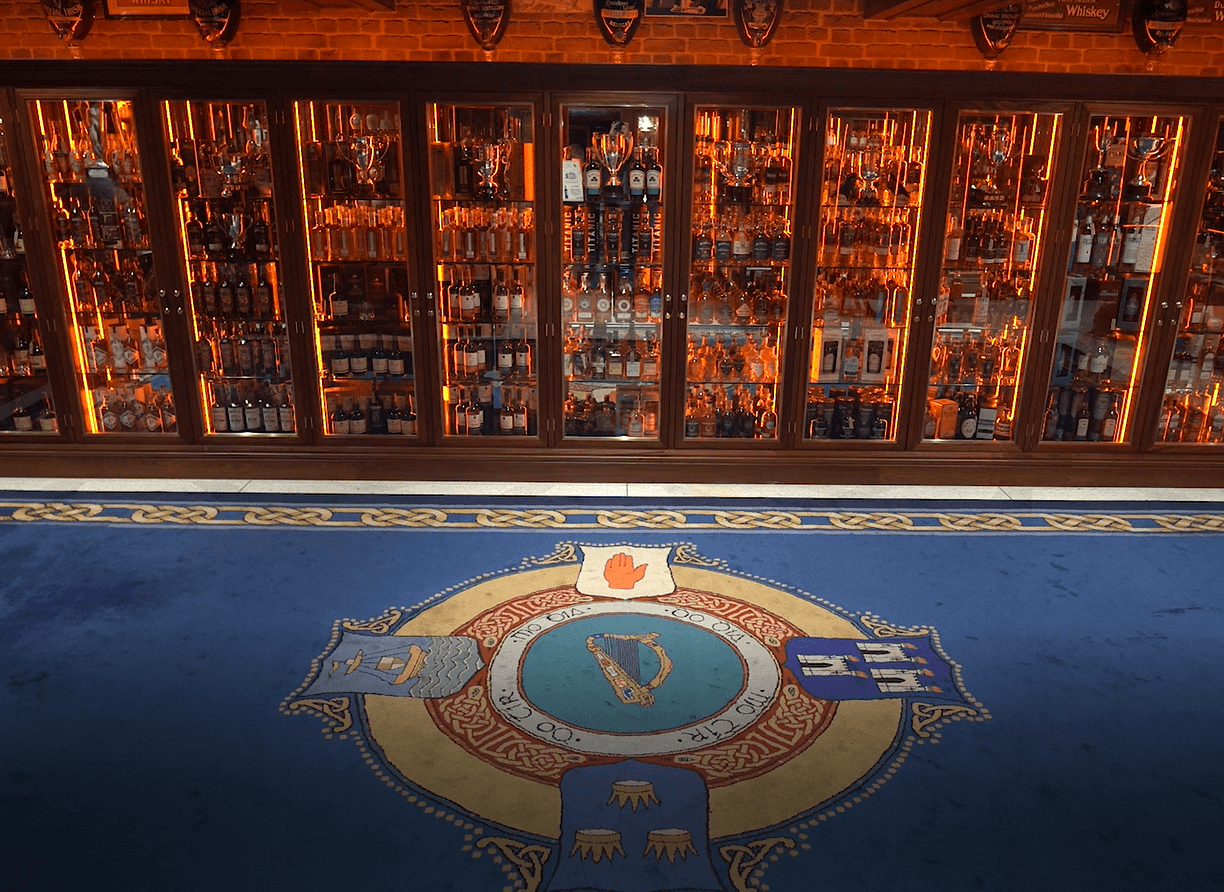 The evening was hosted by Prestige Irish Whiskey Developer Joe Magowan, who alongside fourteen of our Whiskey Club members and friends tasted the full Redbreast Irish Whiskey range.
Redbreast 12 Year Old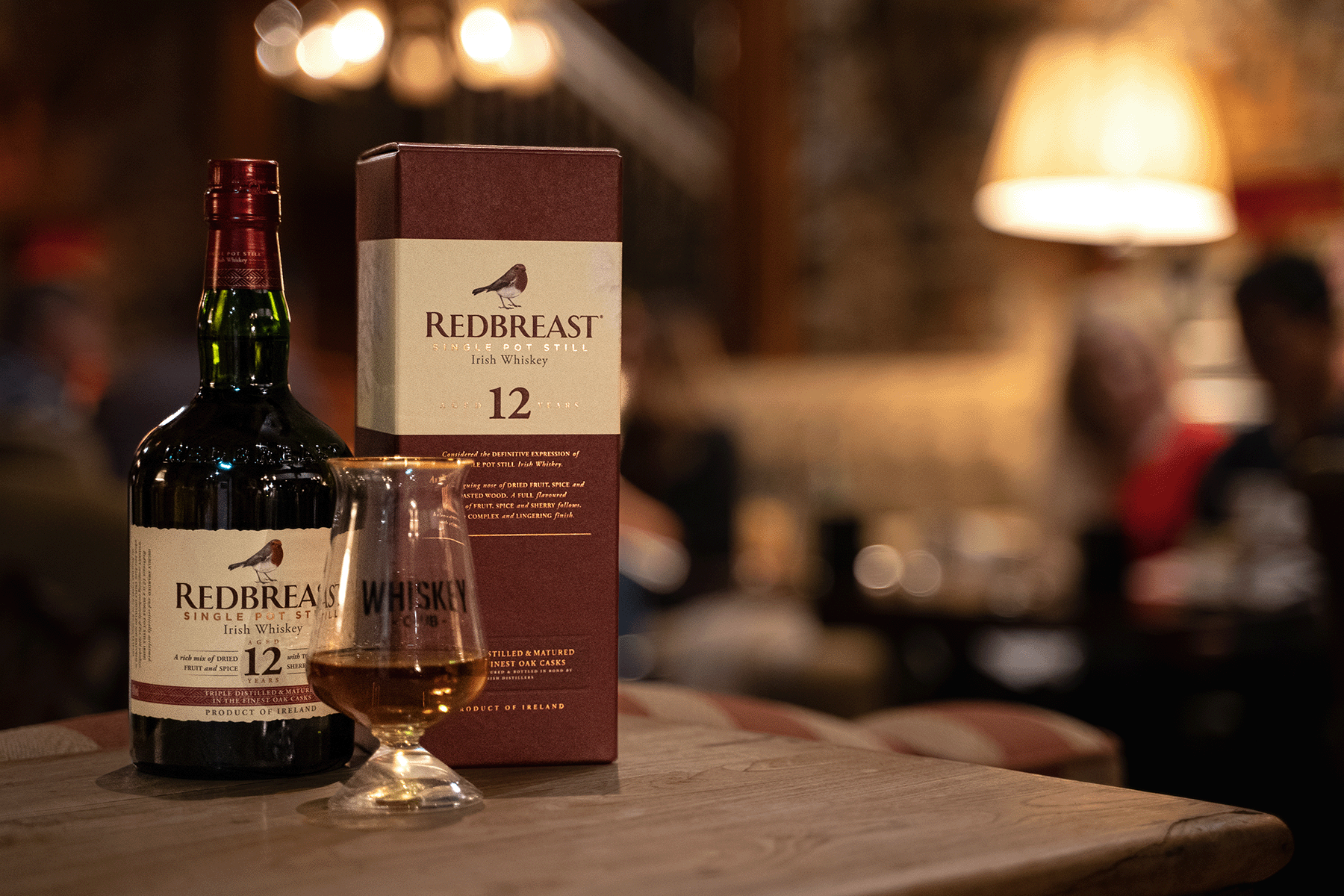 Made from a mash of malted and unmalted barley and then triple distilled in copper pot stills, our signature Redbreast 12 boasts the flavour complexity and distinctive qualities of Pot Still whiskey. Matured in a combination of Bourbon seasoned American Oak barrels and Oloroso Sherry seasoned Spanish oak butts, the distinctive Redbreast sherry style is a joy to behold in each and every bottle.
Nose
A complex spicy and fruity aroma with toasted wood notes evident.
Taste
Full flavoured and complex; silky smooth with a harmonious balance of spicy, fruity, sherry and toasted notes.
Finish
Satisfyingly long, the complex flavours linger on the palate.
Redbreast Lustau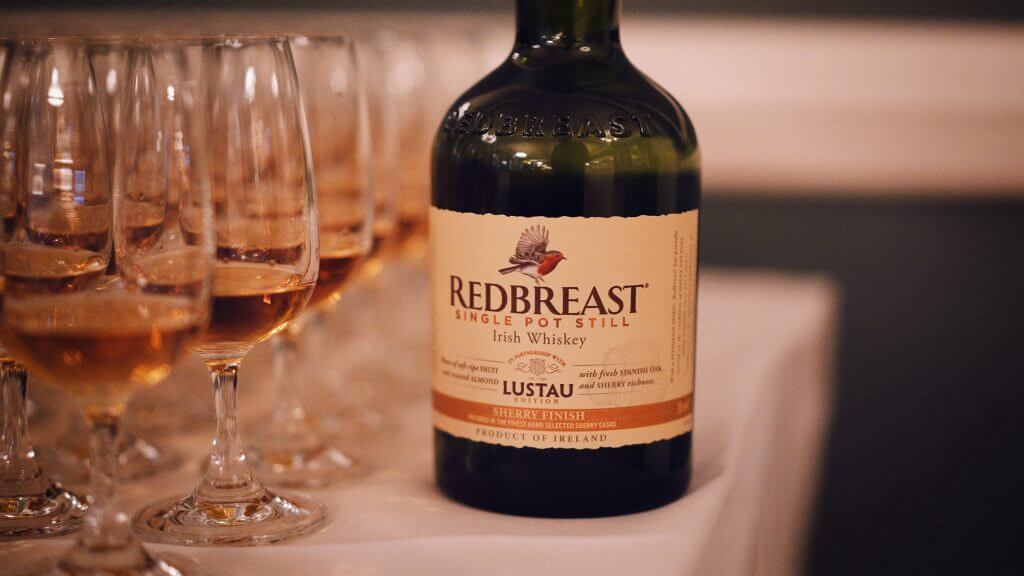 A unique collaboration between the Bodegas Lustau and the Midleton Distillery, Redbreast Lustau Edition is made from a mash of malted and unmalted barley and then triple distilled in copper pot stills.
Having spent its final maturation journey in casks seasoned with the finest Oloroso Sherry in the Bodegas Lustau, the result is the ultimate sherried style of Redbreast.
Nose
Rich infusion of dark fruits, prunes, dates and figs with liquorice, marzipan, toasted oak and aromatic spices.
Taste
Silky smooth Pot Still; assertive spices balanced with richness of the sherry finish and contribution of fresh Spanish Oak.
Finish
Endless. Sweetness and assorted spices endure while Oloroso Sherry and Spanish Oak have the last word.
Redbreast 15 Year Old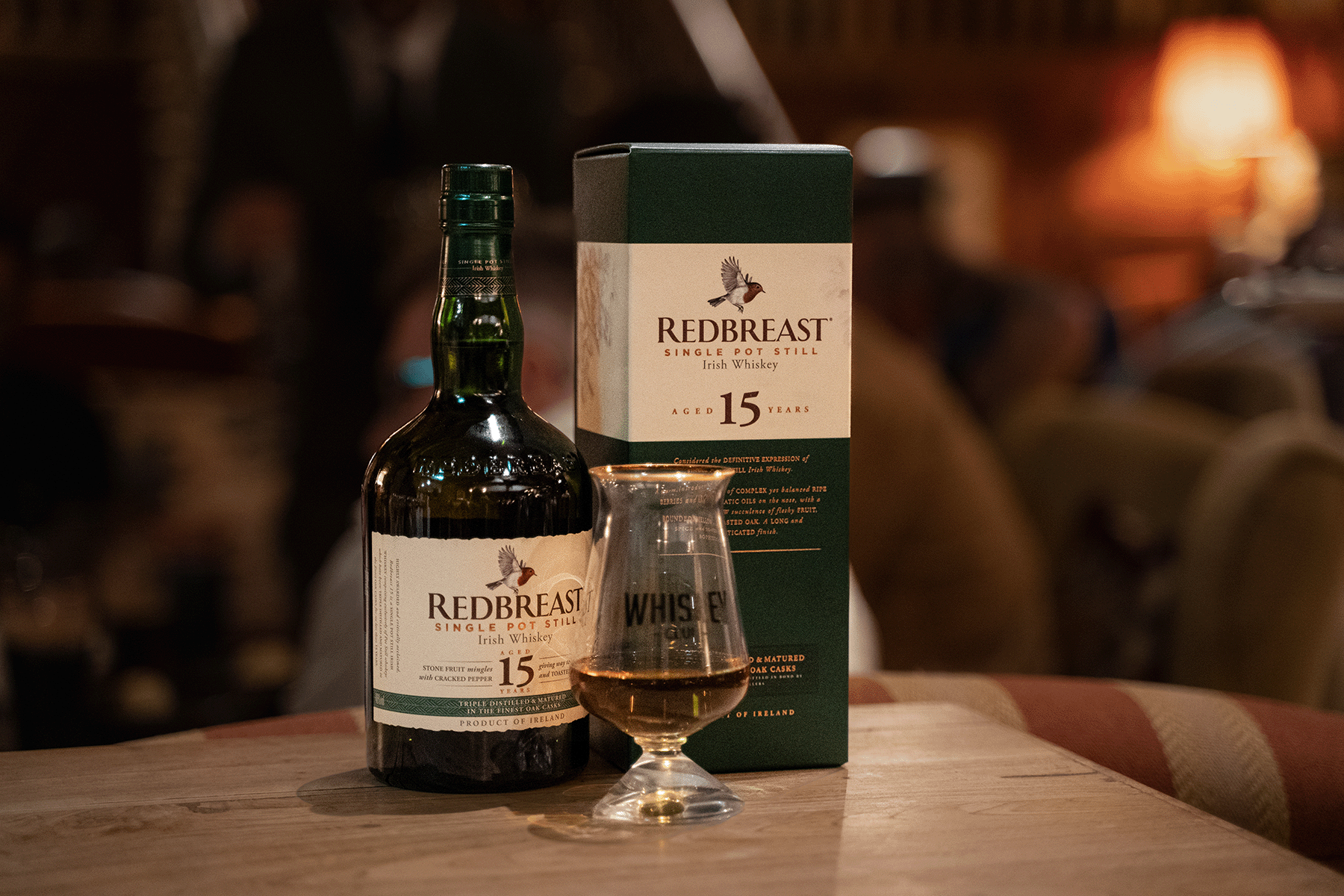 A careful balance of first fill and refill casks accentuates the assorted spices within Redbreast's characteristic full and complex flavour, amplified through additional maturation.
Made from a mash of malted and unmalted barley and then triple distilled in copper pot stills, Redbreast 15 is comprised exclusively of Pot Still whiskeys matured in the finest oak casks for no less than 15 years.
Nose
Full and rich with a complex yet balanced mix of berry fruits and aromatic oils.
Taste
Fully round and mellow with the succulence of fleshy fruit combined with spices and toasted wood.
Finish
Long and sophisticated.
Redbreast 21 Year Old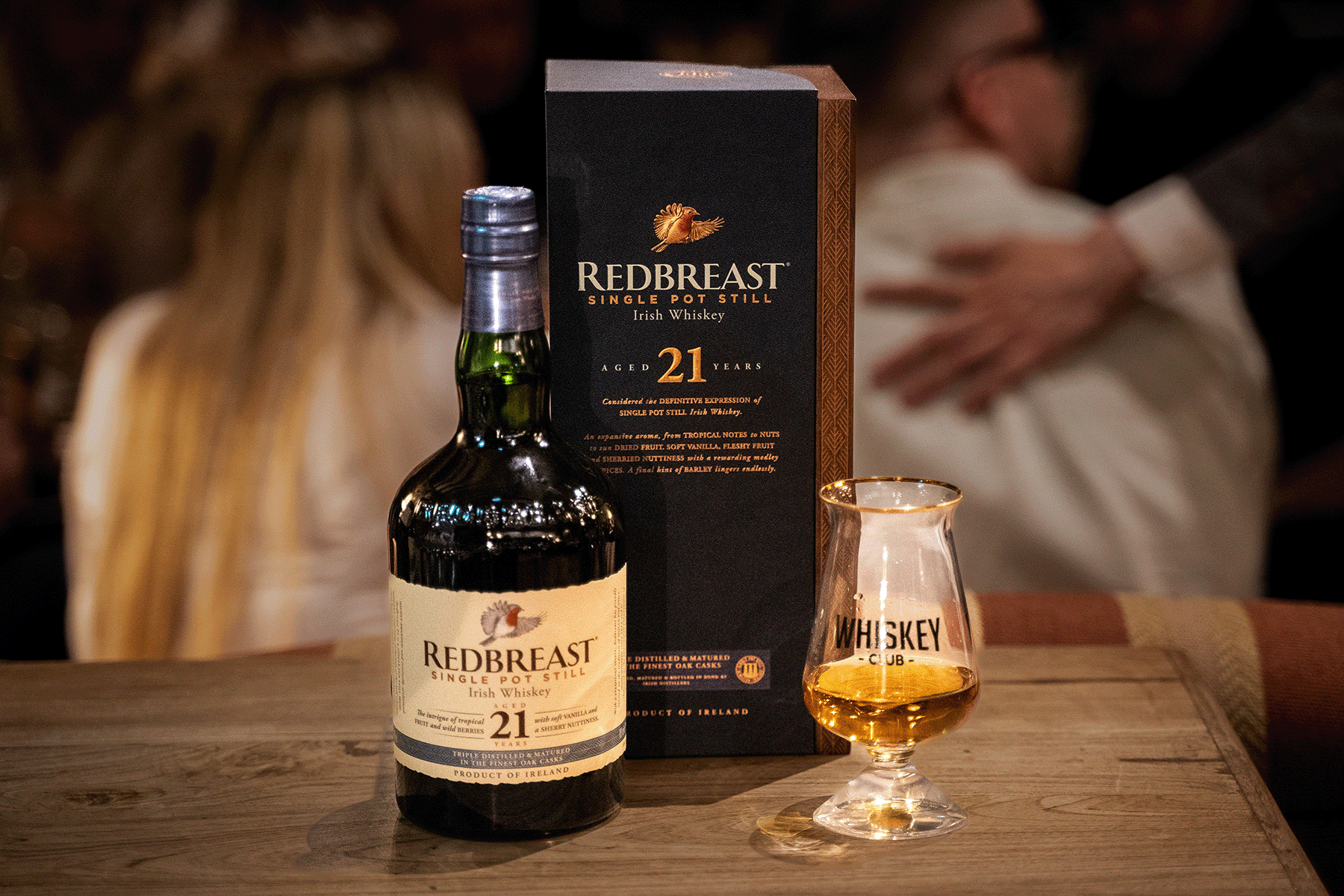 Using a style of Pot Still whiskey reflective of the Midleton Distillery tradition, Redbreast 21 represents the ultimate expression of Redbreast Single Pot Still Irish Whiskey. The 21 year ageing process introduces new levels of depth, flavour and taste, creating a complex and rewarding whiskey. Abundantly aromatic and fruitful, and produced in very limited quantities, this 21 year old Redbreast is a joy to behold in each and every bottle.
Nose
Remarkable aroma spanning fresh tropical fruits, nuts and rich dried fruit
Taste
Soft vanilla, toasted oak, sherry nuttiness with a dusting of spices. Luscious fleshy fruit notes complete the silky mouthfeel.
Finish
Lingers, seemingly forever, with oak and an assortment of spices and then, the final bow from barley – where it all began.
Redbreast 27 Year Old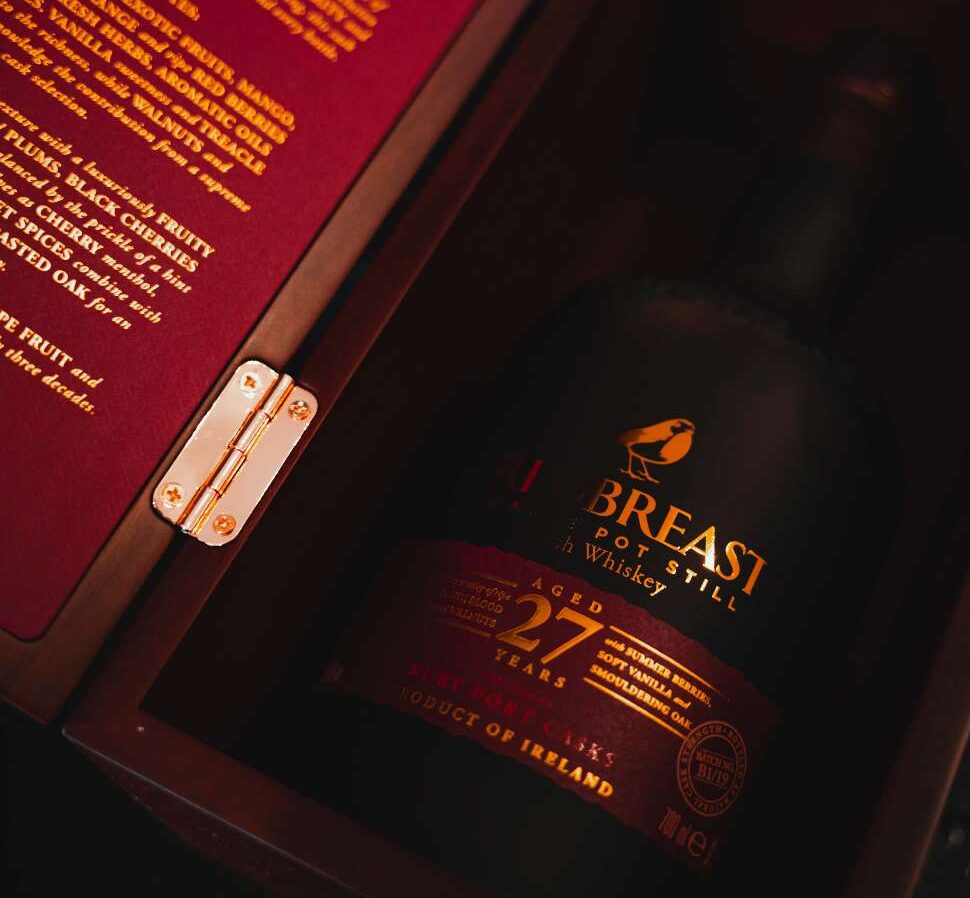 The oldest permanent release in the Redbreast family, 27-Year-Old is a Single Pot Still Irish Whiskey comprising exclusively of Pot Still whiskeys which have been triple distilled, matured in the finest bourbon, sherry and ruby port casks for no less than 27 years, and left untouched.
Nose
A succulent medley of exotic fruits, mango, pineapple, blood orange and ripe red berries are complemented by fresh herbs, aromatic oils and wood spices. Vanilla sweetness and treacle toffee add to the richness, while walnuts and toasted oak acknowledge the contribution from a supreme cask selection.
Taste
Incredibly rich in texture with a luxuriously fruity introduction. Ripe red fleshed plums, black cherries and summer berries are balanced by the prickle of a hint of chili oil. The taste evolves as cherry menthol introduces vanilla and cinnamon sweet spices combined with red pepper, nutmeg and toasted oak for an intriguing complexity.
Finish
A satisfyingly long balance of ripe fruit and wood spices, worthy of a journey of nearly three decades.
Interested in things like this?
To Join In with Whiskey Club, you can follow us on social media, visit our website, attend our events or subscribe to our free monthly newsletter. All newsletter subscribers will automatically be entered into our draw to win a whiskey gift or experience each month.