TO LAUNCH ITS INAUGURAL DAY OF AWARENESS AND FUNDRAISING, REDBREAST IRISH WHISKEY IS RELEASING ITS MUCH-LOVED BIRD FEEDER
Just IN TIME FOR THE HOLIDAY SEASON
Redbreast Irish Whiskey is launching 'Robin Redbreast Day', a global date in the calendar year designed to raise awareness of the brand's mission to help keep common birds common. To kick off its inaugural day of awareness, Redbreast Irish Whiskey is excited to announce the return of its limited edition Redbreast 12-year-old bottle featuring an intricately designed copper robe that neatly transforms into a bespoke bird feeder.
Tipped as the perfect Christmas gift for both whiskey-lovers and their feathered friends this winter, the return of the bird feeder bottle, comes following a successful first year in partnership with BirdLife International, which saw Redbreast Irish Whiskey pilot the popular limited edition. Available online and on the shelf, the bird feeder is available for a second year, this time in nine markets including Ireland, the UK and the USA, as well as Global Travel Retail. Up to €70,000 from the bird feeder bottle sales will be donated to BirdLife International.*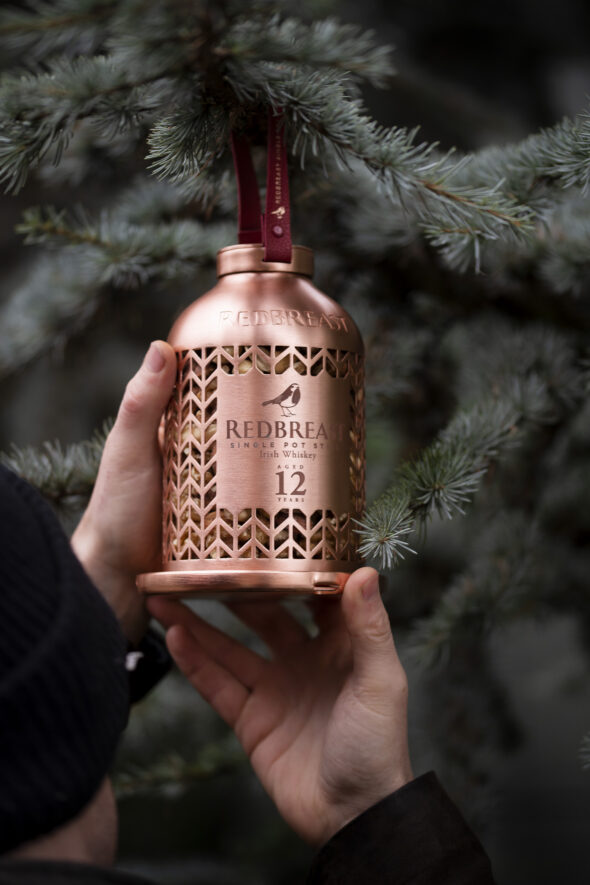 Continuing Redbreast Irish Whiskey's mission to keep common birds common, the brand is proud to continue to support the conservation and welfare of birds across the globe and is therefore pleased to announce the extension of its partnership with BirdLife International for another year.
Brendan Buckley, Global Marketing Director at Irish Distillers commented: "After the success of last year, we are extremely excited to re-launch our beautifully crafted whiskey casing that has been specially designed to double up as a bird feeder. We worked closely with BirdLife International to ensure the bird feeder honours our mission of helping to protect not only Robins, but all common birds, as we move into the colder months and food begins to become scarce."
Available from the Redbreast Irish Whiskey website and on shelf in select markets for €70 (£57.49) the elegantly designed shell sits around a bottle of Redbreast 12-Year-Old, the world's bestselling and most awarded single pot still Irish whiskey. Once removed from the bottle, the casing can be filled with bird feed and hung in the garden to keep birds fed as the weather gets colder, ensuring the protection of species through the winter months. Whiskey fans can sit back and enjoy a warming drink in the comfort of their home while watching nature fly by.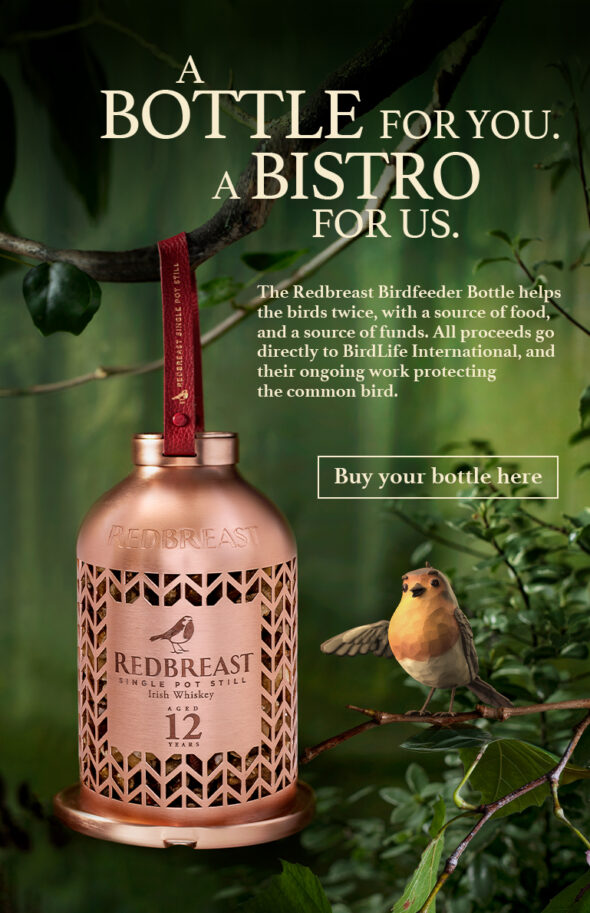 Patricia Zurita, CEO, BirdLife International, commented:
"We're extremely pleased to be continuing the partnership with Redbreast Irish Whiskey and our ongoing mission in keeping common birds common. Robin Redbreast Day feels like the perfect time to raise awareness of the work we do at BirdLife International to conserve the habitats and wellbeing of common birds – plus it's a great opportunity to get the beautiful bird feeders back out in gardens across the world."
Robin Redbreast Day will take place every year on the second Friday of November – the month that sees robins start to prepare for winter – encouraging whiskey-lovers to annually raise a dram to their feathered companions.
To find out more about the bird feeder and the partnership between Redbreast Irish Whiskey and BirdLife International, please visit www.redbreastwhiskey.com or www.birdlife.org.
#RobinRedbreast #RedbreastIrishWhiskey
Interested in things like this?
To Join In with Whiskey Club, you can follow us on social media, visit our website, attend our events or subscribe to our free monthly newsletter. All newsletter subscribers will automatically be entered into our draw to win a whiskey gift or experience each month.