JAMESON REINTRODUCE Their SIGNATURE STYLE
JAMESON SINGLE POT STILL
We are offering two opportunities to win a bottle of Jameson Single Pot Still. One winner will be drawn from all social media entries and a second winner will be drawn from our newsletter subscribers.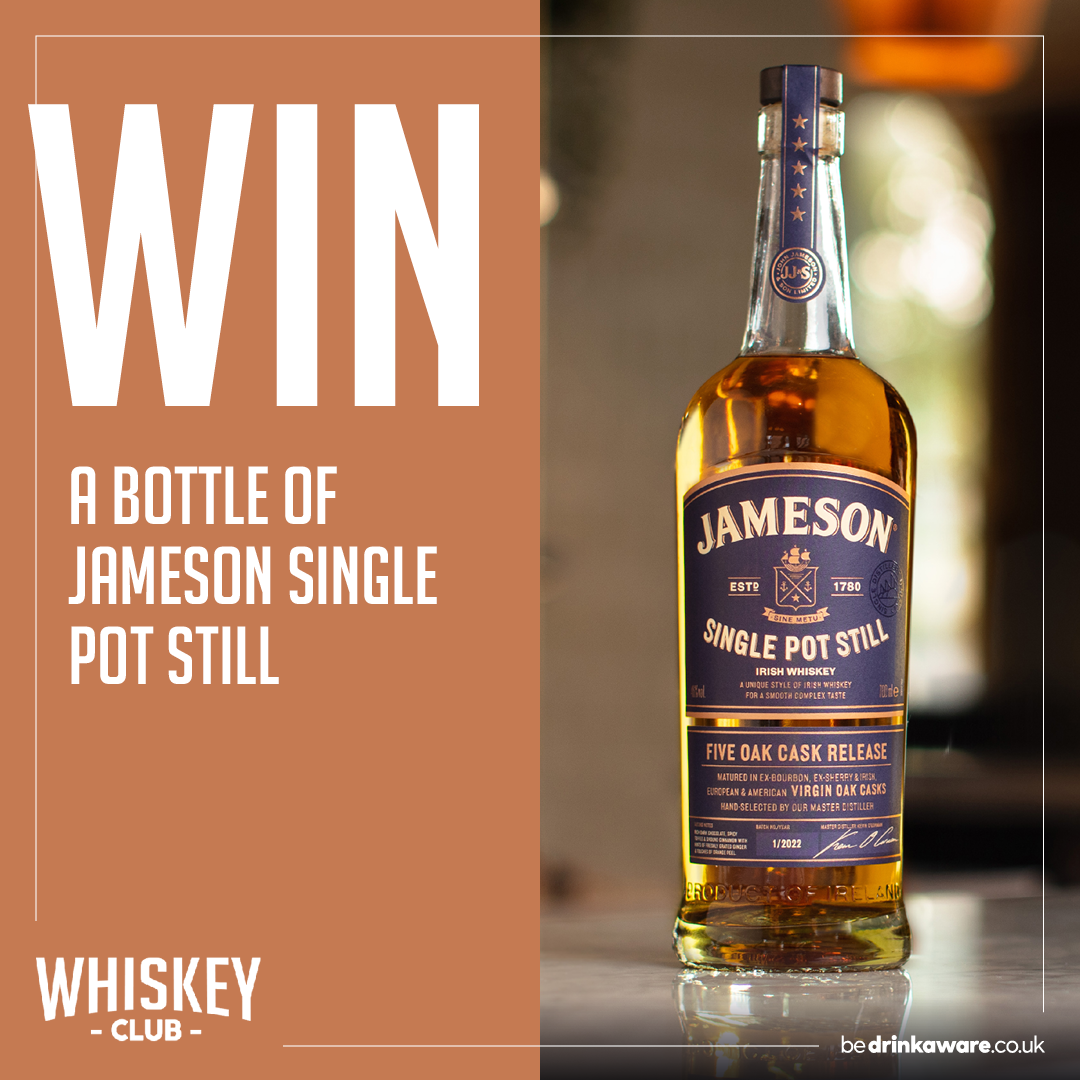 Make sure to enter by mentioning a whiskey loving mate on the WIN post on our Facebook, Instagram and Twitter pages and for an extra opportunity to win, subscribe to our free monthly newsletter. 
Giveaway closes at 12 noon on Thursday 3rd August 2023. Open to over 18s in NI only. Full T&Cs below.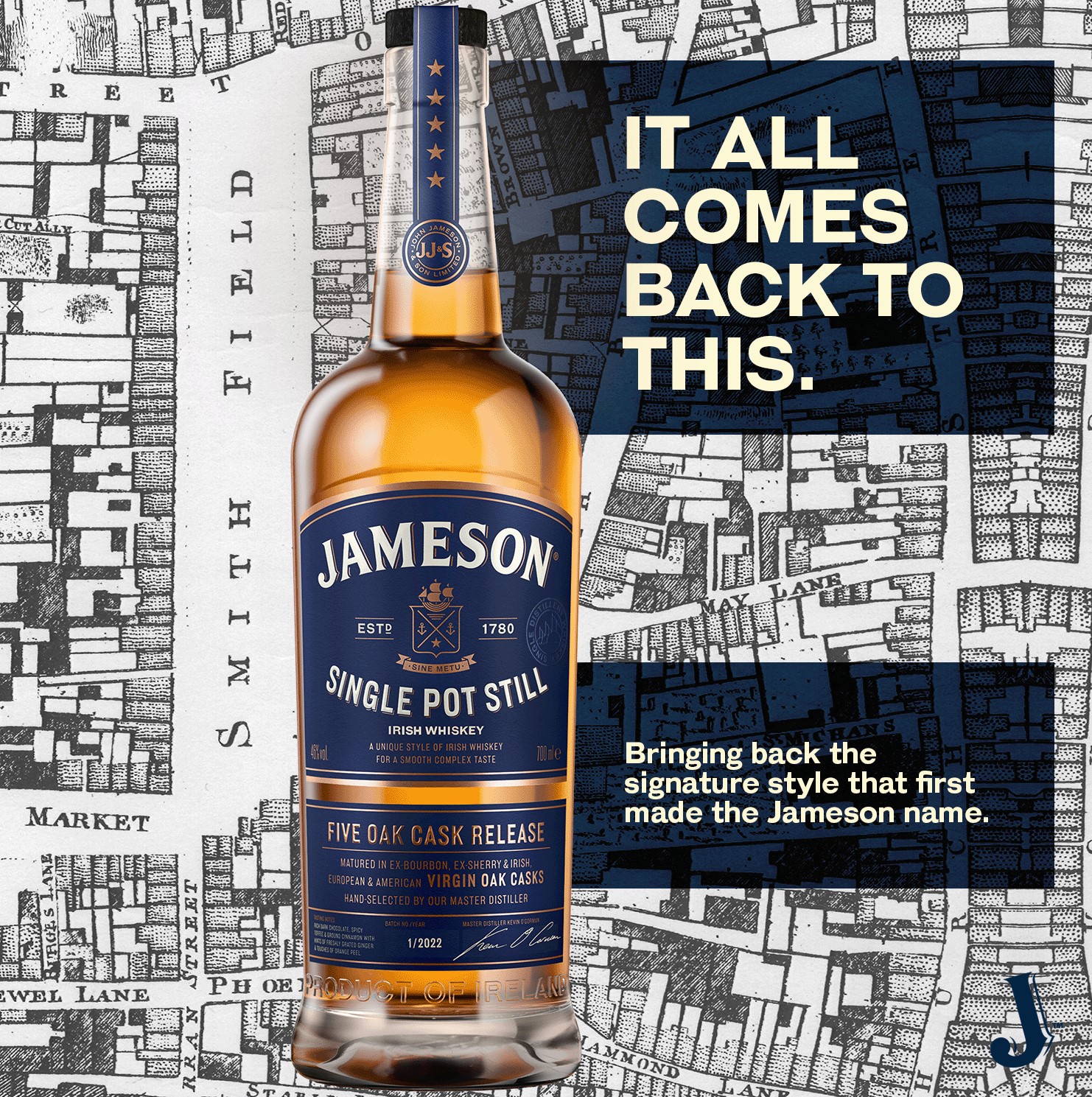 Jameson, the world's bestselling, and most awarded Irish whiskey, is delighted to introduce its latest expression, Jameson Single Pot Still, as a new addition to the Jameson family. Celebrating the traditional style of Irish whiskey after which it is named, Jameson Single Pot Still is a throwback to an era when Irish whiskey reigned supreme.
Skilfully created under the watchful eye of Master Distiller Kevin O'Gorman, Jameson Single Pot Still is crafted from a mashbill of malted and unmalted barley before being triple distilled for a rich, unmistakable taste experience. The new Jameson Single Pot Still is then matured in ex-bourbon and ex-sherry casks, while also introducing the subtle flavour contribution of three different types of virgin oak casks: American, European, and Irish.
The finished result is a complex, spicy, and smooth symphony of flavours and aromas. The ex-bourbon and ex-sherry casks bring elements of sweetness in the form of dried fruits, notes of vanilla and fudge, that Jameson fans the world over will know and love. The addition of the three virgin oak cask types provides a hint of toasted oak and elevated woodland spices. This subtle addition allows the Jameson Single Pot Still to express its traditional spiciness while elevating the overall taste and flavour in this modern classic.
Kevin O'Gorman, Master Distiller at Irish Distillers, says: "We are delighted with the release of Jameson Single Pot Still. It has been an honour and a joy to work on rebuilding a traditional Jameson expression with an innovative twist and bringing a new member into the Jameson family.
"While crafting this whiskey, the team at Midleton Distillery worked hard to find the exact balance and flavour profile for our finished product. We wanted to showcase the quintessential notes of the single pot still style by blending the familiar ex-bourbon and ex-sherry casks before bringing a new dimension with the introduction of the virgin oak casks."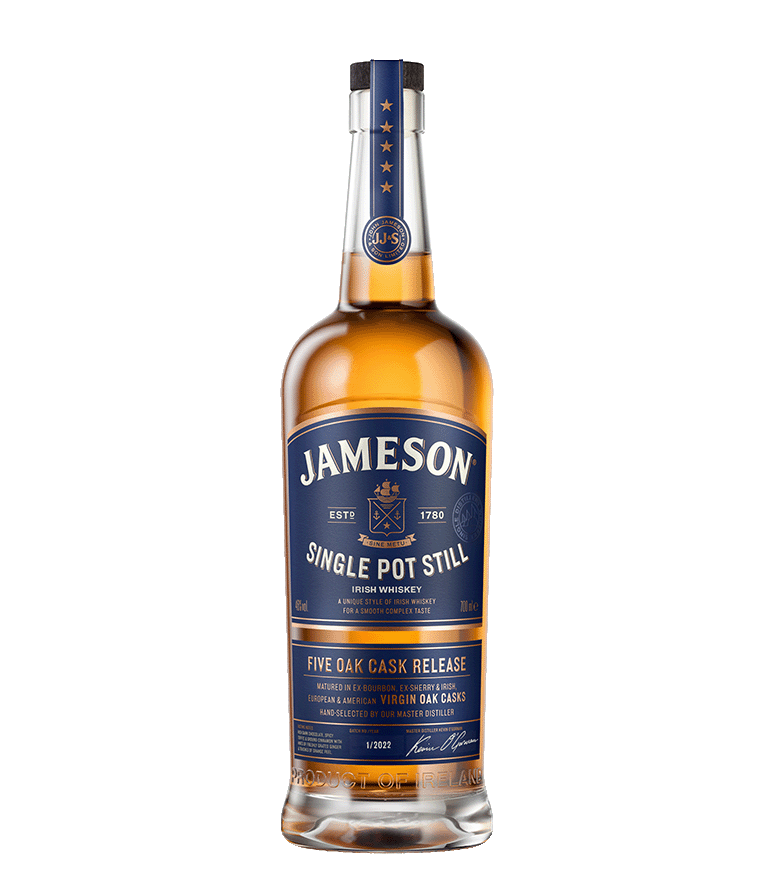 Deirdre O'Carroll, Blender, adds: "Through some trial and error along the way, working with different prototypes and flavour combinations, we found the right balance for our Jameson Single Pot Still. We have created a whiskey that is robust and spicy by single pot still's nature, but also intriguingly complex and bearing the trademark Jameson smoothness. We couldn't be more proud of the results."
Throughout the 19th century, the Jameson Bow Street Distillery was famed worldwide for its single pot still whiskey – from Europe to Africa and South America. However, tastes changed, and so did Jameson's approach. The decision was made in the late 20th century to switch to a blended whiskey to make it more accessible and attractive to new audiences. Today, inspired by Jameson's rich history, the team made the exciting decision to masterfully recreate the signature single pot still style so that everyone can enjoy a piece of Jameson history.
Bottled at 46% ABV, Jameson Single Pot Still whiskey is equal parts complex and smooth. Jameson Single Pot Still will be available in Northern Ireland within the next couple of weeks.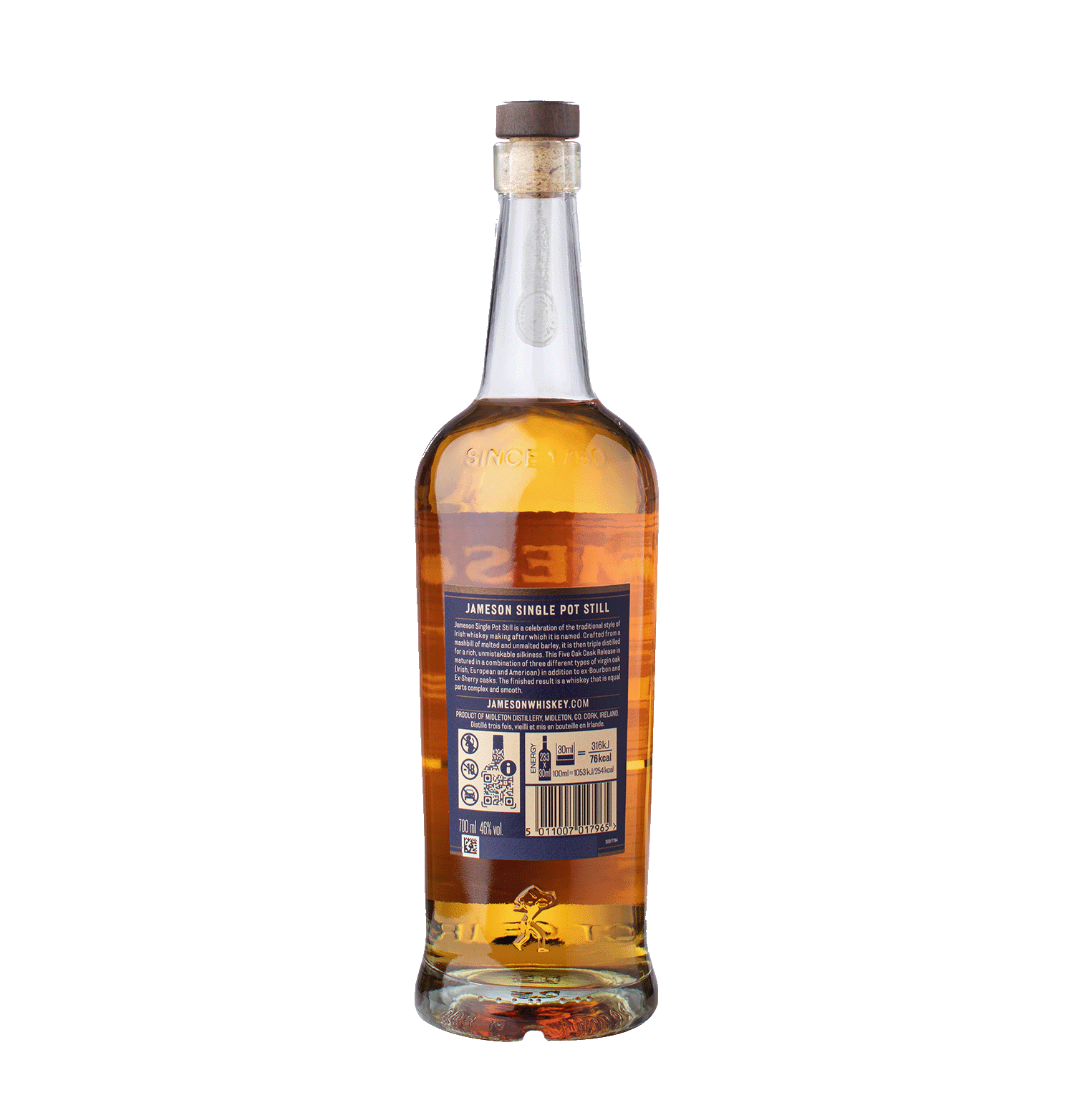 Tasting notes:
NOSE: Opens with wood-driven spices of cinnamon and nutmeg intertwined with rich toasted oak, sweet honeycomb, and salted caramel. Zesty fruit notes linger in the background along with dairy fudge, butterscotch, and vanilla while the pot still spices continue to build over time, complementing the earthy woodland notes and ripe fruits.
TASTE: Rich dark chocolate, spicy toffee, and ground cinnamon with hints of freshly grated ginger and touches of orange peel. The combination of fresh and seasoned oak adds intricate and layered sweet and smoked-wood tones with delicate tannins, working in balance with the pot still's silky texture.
FINISH: The delicate fruits slowly fade, leaving the spices and oak to linger until the very end.
GIVEAWAY TERMS & CONDITIONS OF WHICH INSTRUCTIONS ARE PART OF:
1. Giveaway is run by Whiskey Club NI (Dillon Bass Limited).
2. Giveaway is open to Northern Ireland residents aged 18 years and over, except employees, families, agents or anyone professionally connected with the parties involved.
3. Two winners will be drawn at random to win a bottle of Jameson Single Pot Still each. One winner will be drawn from all social media entries and another winner will be drawn from all newsletter subscribers.
4. On social media you can enter as many times as you like. All newsletter subscribers will be entered once.
5. The Giveaway will be drawn after 12 noon on Thursday 3rd August 2023.
6. Whiskey Club NI reserves the right to replace any of the prize items at any time and no further correspondence will be entered into.
7. The winners will be announced after Thursday 3rd August 2023.
8. Winners will have 48 hours to accept the prize after being initially contacted, otherwise a new winner will be drawn.
9. The winners may be asked to provide proof of ID to verify age and residency before they can be confirmed as winner.
10. Prize is not transferable and no cash alternatives in whole or in part are available.
11. This promotion is in no way sponsored, endorsed, administered by, or associated with Facebook, Instagram and Mailchimp. By entering, you understand that you are providing your information to the parties involved and not to Facebook, Instagram or Mailchimp. Your information will not be used for any other purpose than to be contacted if you have been chosen as the winner.
12. Whiskey Club NI reserves the right to vary, alter or terminate this giveaway due to unforeseen circumstances. The decision of Whiskey Club NI is final and binding and no correspondence shall be entered into.
Interested in things like this?
To Join In with Whiskey Club, you can follow us on social media, visit our website, attend our events or subscribe to our free monthly newsletter. All newsletter subscribers will automatically be entered into our draw to win a whiskey gift or experience each month.