We had a great time at Belfast Whiskey Week, Ireland's largest whiskey festival.
As fellow whiskey lovers got together to try hundreds of different whiskeys, we hosted two tastings in The Duke of York.
The first tasting offered an opportunity to try six different Redbreast Whiskeys including Redbreast 27 Year Old, the oldest permanent release in the family.
At our second tasting we enjoyed five Spot whiskeys, including the latest release Gold Spot which is now available to buy at certain retailers in Northern Ireland. If you missed Belfast Whiskey Week and would like to try it, make sure to get in touch and we can point you in the direction of where it is available.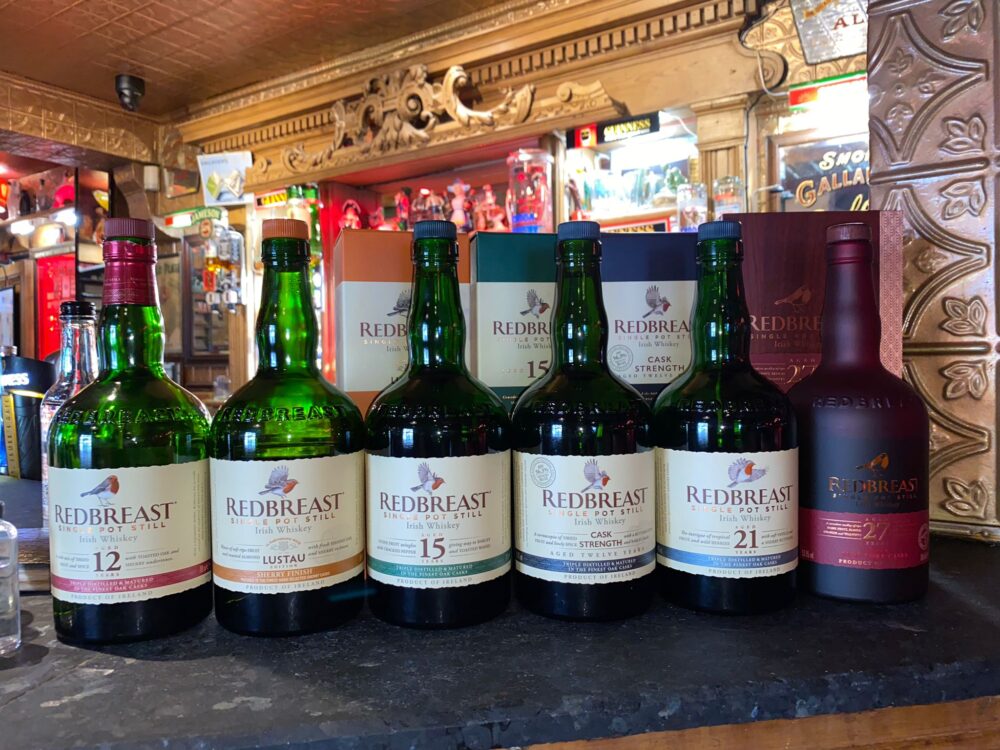 Redbreast Family Tastings

Redbreast 12 Year Old
NOSE: A complex spicy and fruity aroma with toasted wood notes evident.
TASTE: Full flavoured and complex; a harmonious balance of spicy, creamy, fruity, sherry and toasted notes. The
Christmas cake of Irish whiskey.
FINISH: Satisfyingly long, the complex flavours linger on the palate.

Redbreast Lustau Edition
NOSE: Rich infusion of dark fruits, prunes, dates and figs with liquorice, marzipan, toasted oak and Redbreast spices
TASTE: Creamy pot still with Redbreast spices balanced with richness of sherry finish and contribution of fresh
Spanish oak.
FINISH: Endless sweetness and pot still spices endure while Oloroso sherry and Spanish oak have the last word.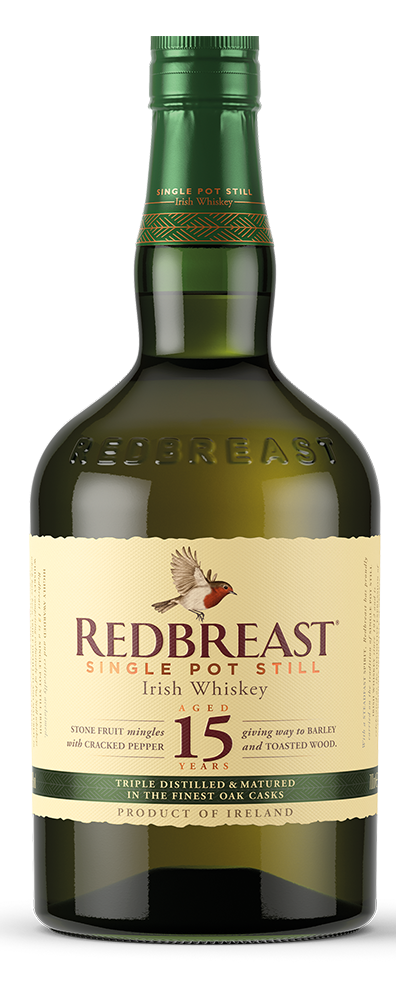 Redbreast 15 Year Old
NOSE: Full and rich with a complex yet balanced mix of berry fruits and aromatic oils.
TASTE: Fully round and mellow with the succulence of fleshy fruit combined with spices and toasted wood.
FINISH: Long and sophisticated.

Redbreast Cask Strength
NOSE: Succulent exotic fruit with a little citrus complimenting deeper notes of dried apricots and sultana. Infusion of pot still spices and toasted wood.
TASTE: Rich, fully rounded and mellow with lucious fruit and typical pot still oils and spices. Sweetness of vanilla and a touch of oak.
FINISH: Satisfying long with the sophisticated combination of fruit and spices slowly giving way to toasted oak, then barley.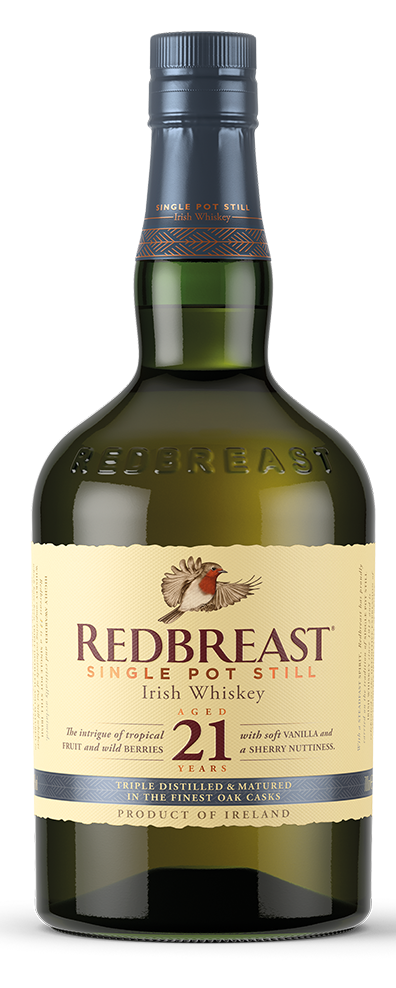 Redbreast 21 Year Old
NOSE: Remarkable aroma spanning fresh tropical fruit, nuts and rich dried fruit.
TASTE: Soft vanilla, toasted oak, sherry nuttiness with a dusting of pot still spices, lucious fleshy fruit notes
complete with creamy mouthfeel.
FINISH: Lingers, seemingly forever, to oak and pot still spices and then, the final from barley – where it all began.

Redbreast 27 Year Old
NOSE: A succulent medley of exotic fruits, mango, pineapple, blood orange and ripe red berries are complemented by fresh herbs, aromatic oils and wood spices. Vanilla sweetness and treacle toffee add to the richness, while walnuts and toasted oak acknowledge the contribution from a supreme cask selection.
TASTE: Incredibly rich in texture with a luxuriously fruity introduction. Ripe red fleshed plums, black cherries and summer berries are balanced by the prickle of a hint of chili oil. The taste evolves as cherry menthol introduces vanilla and cinnamon sweet spices combined with red pepper, nutmeg and toasted oak for an intriguing complexity.
FINISH: A Satisfyingly long balance of ripe fruit and wood spices, worthy of a journey of nearly three decades.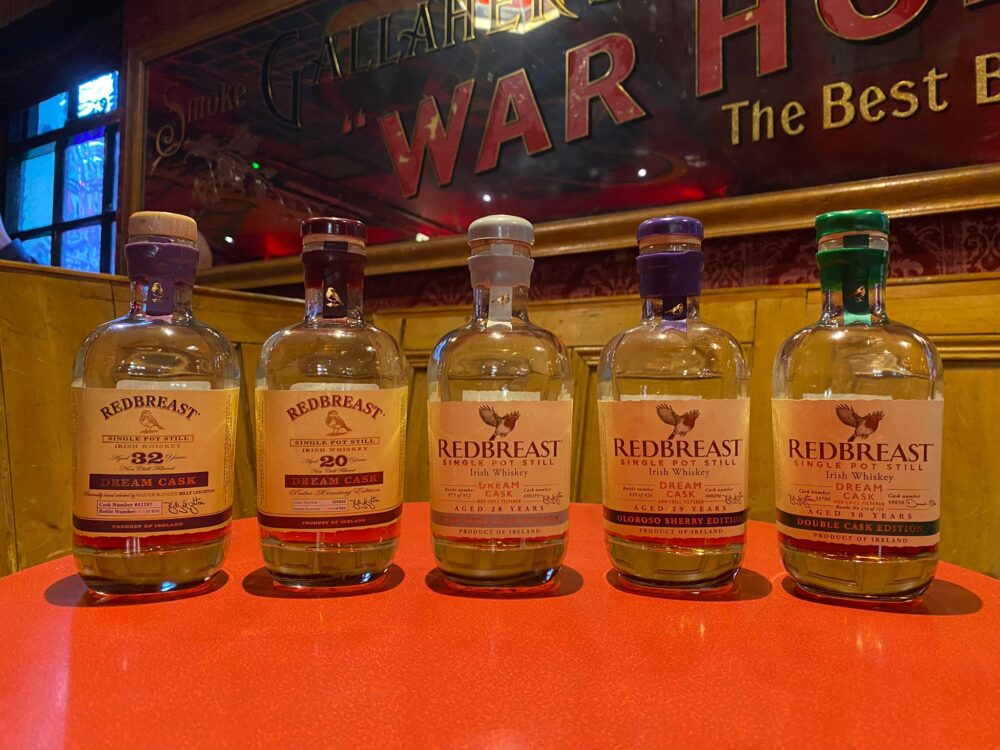 Following Belfast Whiskey Week tradition, we also tried every Redbreast Dream Cask ever released.
Redbreast Dream Cask 32 Year Old 46.5% – Refill bourbon into first fill Sherry 32 YO
After a live tasting of this whiskey on World Whiskey Day in 2017 reams of requests were received to bottle this one of a kind Redbreast. This call was answered with an exclusive launch of all 816 bottles to birdhouse members on World Whiskey Day in 2018.
The whiskey was originally bonded back in October 1985, with Single Pot Still Irish Whiskey filled into refill American Oak ex-Bourbon barrels. Then, on March 8th, 2011, the whiskey was re-casked into a 1st fill Oloroso Sherry-seasoned butt.
After 32 years this Dream whiskey was selected by Billy Leighton as his Dream Cask as he deemed it be close to the perfect infusion of pot still, Spanish oak and sherry flavours that Redbreast is noted for.
Redbreast 20 Year Old Dream Cask 50cl / Pedro Ximenez Edition 51.5% 20-33 YO
This is a whiskey that the distillery say is a "story 20 years in the making". The whiskey has been drawn from a single Pedro Ximénez cask (#374932) which was made up of a marriage of four different single pot-still whiskeys from the Midleton Distillery.
A very complex and time consuming product, which sold out in a staggering 14 minutes! One of 924 bottles.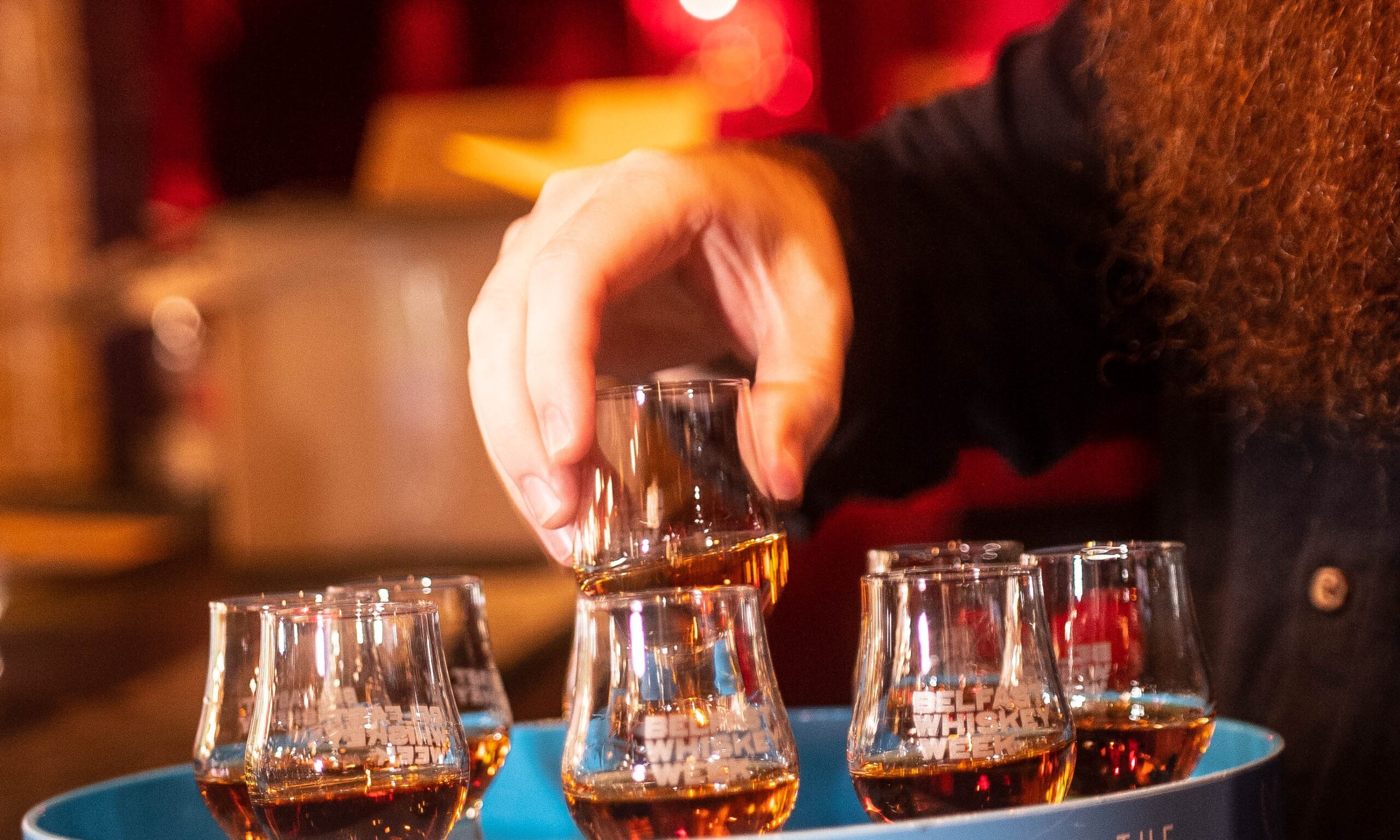 Redbreast Dream Cask Ruby Port Edition 51.5% 28 YO
The whiskeys used to create the limited edition Dream Cask were matured for a minimum of 28 years in a mix of ex-Bourbon barrels, an oloroso Sherry butt and a ruby Port seasoned cask. The liquid was then married in the ruby Port cask. Bottled at 51.5% ABV, the whiskey is said to have notes of spices, dark chocolate, cinnamon, ripe plums, exotic fruits, raisins, sultanas and berries.
Redbreast Dream Cask Oloroso Sherry Edition 51.2% 29 YO
• The rare bottling is a combination of the finest single pot still distillates, aged in ex-bourbon, sherry and ruby port seasoned casks for a minimum of 29 years, before being left to marry in an exquisite sherry butt.
Redbreast Dream Cask Double Cask Edition 56.9% 30 YO
To create this extraordinary whiskey, Leighton and McCabe each hand selected their favourite cask from Midleton's inventory before combining them to create one heavenly whiskey. The first cask, chosen by Leighton, was originally laid down in a first fill oloroso sherry butt in May 1990, while the second – chosen by McCabe – was laid down in a first fill bourbon barrel in November 1991. Each cask, reflective of the two distinct components of the Redbreast DNA, was chosen at its optimum maturity, then combined to showcase the unique traits imparted by each of the following three decades of ageing.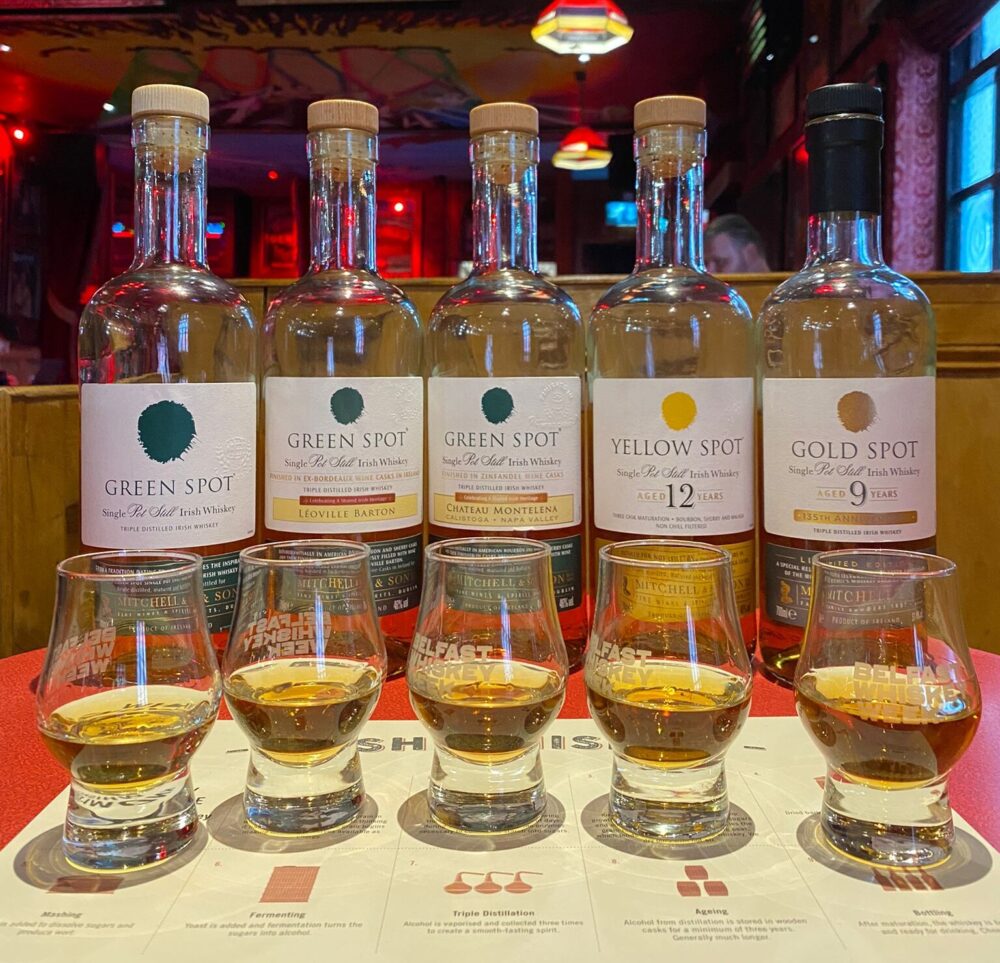 Spot Family Tastings

Green Spot
NOSE: Fresh aromatic oils and spices with orchard fruits and barley on a background of toasted oak and wood.
TASTE: Full spicy body. A hint of cloves along with the fruity sweetness of green apples, rounded off with toasted oak.
FINISH: Lingering flavours of spices and barley.

Green Spot Chateau Leoville Barton
NOSE: It is the contribution of the French oak which drives the initial aroma adding some crisp woodland notes to the spicy single pot still character. The wine seasoning brings a delicate touch of floral perfume and a hint of ripe berries such as raspberries and strawberries; these are in addition to the orchard fruits typical of Green Spot.
TASTE: The familiar mouth coating effect is a very satisfying balance of oak and spices. Some vanilla sweetness works in harmony with the dry wine influence, while the fresh orchard fruits and French oak combine effortlessly with barley grains to complete the complexity.
FINISH: The rich French oak character is slow to fade leaving the wine and spices of France and Ireland to have the last word.

Green Spot Chateau Montelena
NOSE: Crisp oak combines with the soft sweetness of vanilla, white chocolate and marshmallow, balanced with signature Green Spot red apples and ripe pears, along with pomegranate, cranberries and maraschino cherries, the contribution of the wine cask.
TASTE: Sweet mouth coating takes on a dry note thanks to the effect of the wine cask. Pot still spices subside with zesty citrus leading to ripe orchard fruit and red berries. A touch of marzipan and toasted oak add to the complexity.
FINISH: Satisfyingly long with pot still spices in harmony with the delicate dry wine contribution.

Yellow Spot
NOSE: Mown hay and cracked black pepper. Red bell peppers, nutmeg, clove oil and green tea. Sweet honey and peaches from the Malaga casks.
TASTE: Honey sweetness with pot still spices. Flavours of fresh coffee, creamy milk chocolate and Crème brûlée. Notes of red apples and toasted oak.
FINISH: Sophisticated and complex. Sweetness throughout, with a mix of red grape and dry barley upon exit.

Gold Spot
Nose: Opens with a bouquet of autumnal berries that develop into notes of apple and pear before evolving into rich stone fruits. These are intertwined with layers of wood spices, vanilla and perfumed wine undertones.
Taste: Rich pot still spices with vibrant fruits enhanced by the delicate oak tannins and wood spices. While The sweet influences of the charred and toasted oak deliver a character that embellishes the unique mix of wine-seasoned casks.
Finish: Rich and lasting with the intricate nature of the wine casks and pot still spices lingering.
Interested in things like this?
To Join In with Whiskey Club, you can follow us on social media, visit our website, attend our events or subscribe to our free monthly newsletter. All newsletter subscribers will automatically be entered into our draw to win a whiskey gift or experience each month.