We know that a good book, like a fine whiskey, is hard to put down.
Alas, we've compiled a list of ten books for you to savour as you sip.
From exploring the history and culture of whiskey throughout the world to learning the art of distilling, blending and mixing, there's a book to entice all whiskey lovers.
Take time out and soak up the wealth of knowledge and stories by ten talented writers.
And if you didn't know already, we've just launched our Whiskey Book Club to everyone in Northern Ireland. Check it out here after.
From Barley to Blarney: A Whiskey Lover's Guide to Ireland – Sean Muldoon & Jack McGarry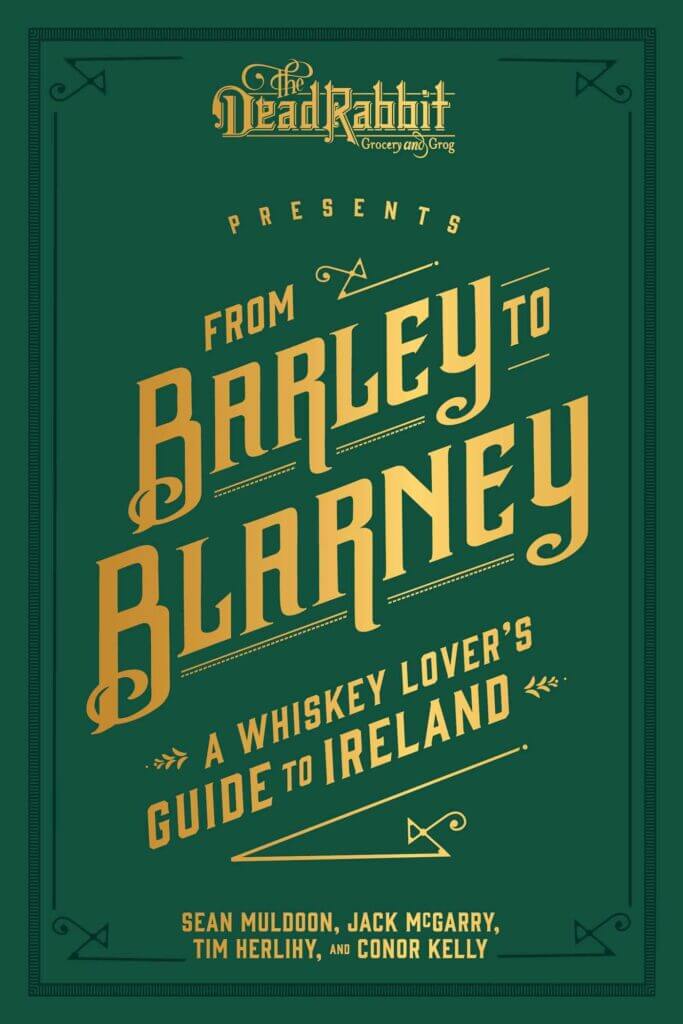 From medieval monks to recent renaissance, From Barley to Blarney: A Whiskey Lover's Guide to Ireland includes everything you need to understand, appreciate, and mix one of the world's fastest-growing (and most delicious!) spirits.
An Irish whiskey guru, two bartender behemoths, and an adept writer combine forces to create this comprehensive guide to Irish whiskey. The book begins with an in-depth introduction to whiskey and its history in Ireland, including what makes the style of Irish whiskey unique. What follows is a detailed examination of 50 different Irish whiskeys and the distilleries that make them, as well as a discussion of the booming present and promising future for Irish whiskey producers. The fun really begins when the masterminds behind 2015's "World's Best Bar," Dead Rabbit Grocery and Grog, share 15 original mixed-drink recipes tailor-made for Irish spirits. Lastly, Irish Whiskey showcases 30 of Ireland's iconic bars and pubs, linking past to present and providing the ultimate whiskey tourist itinerary.
The Whiskeys of Ireland – Peter Mulryan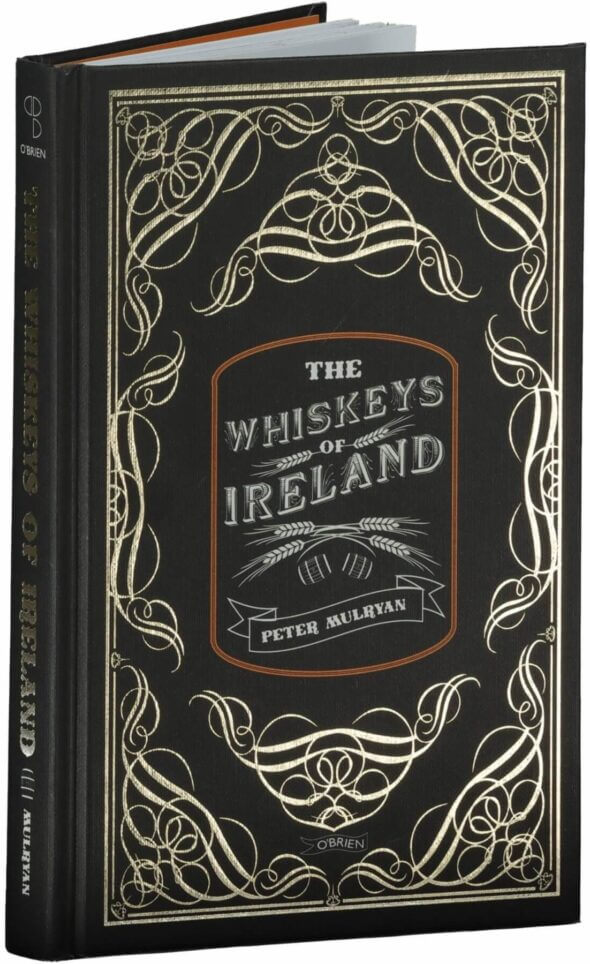 This beautifully produced book, with full-colour photographs throughout, will tell you everything you ever wanted to know about Irish whiskey.
The History of Irish Whiskey – There is a strong connection between the history of distilling in Ireland and the history of the island itself. It's as if whiskey were the lifeblood of the people.
The Rise and Fall  – A hundred years ago Irish Whiskey was so prized that Scottish distillers often shipped their whiskey to Dublin, where it was mixed with a little Irish, re-exported as 'Irish Whiskey' and sold at a premium!
The Fall and Rise Ireland's distillers reacted to the threat of blended Scotch exactly as you would expect; they fought amongst themselves to the edge of extinction! But today Irish Whiskey is the fastest-growing drink segment in the world. A generation ago there were only two distilleries in Ireland: now it's 31, with seven new ones this year alone.
How Whiskey is Made  – Understand the difference between Single Malts, Blends, Pot-still whiskeys; and the art of distilling and blending.
Tasting Whiskey  – How to explore the different flavours found in Irish Whiskey and where they come from. Learn how to taste as well as drink!
A Glass Apart: Irish Single Pot Still Whiskey – Fionnan O'Connor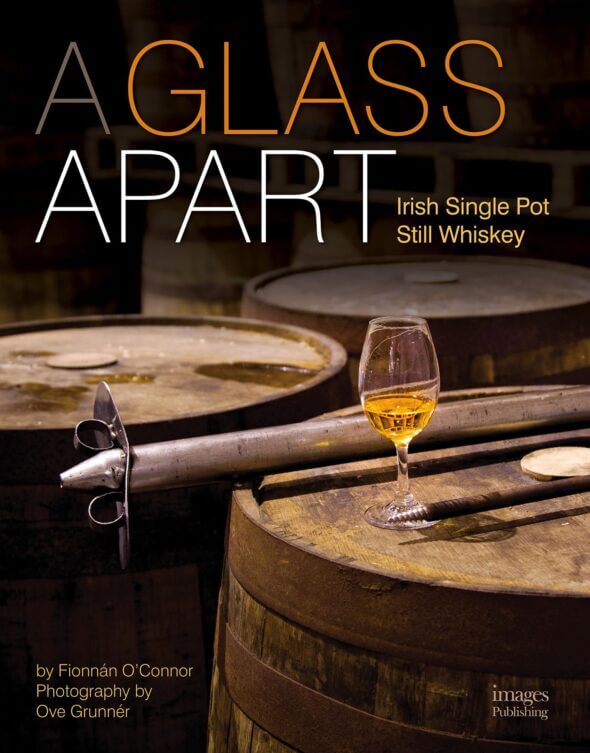 "A must-read book for any fan of Irish whiskey. At a time when the category is making the mightiest of comebacks Fionnán O'Connor has written a gem of a book, digging deep into the heart of his country's whiskey history and telling its story with style and authority. Excellent." Dominic Roskrow, Founding Director, The Craft Distillers Alliance.
Irish single pot still whiskey has a romantic mystique for many whiskey critics because of its tragic history as the lost sister of single malt scotch. Ireland's history and politics resulted in the near annihilation of the national drink and there's an almost eerie beauty to the silent distilleries that still dot the Irish countryside. These distilleries inform the aesthetic of the title and, indeed, there is visual poetry in the barrels, pot stills and photogenic amber spirits that convey the Irish whiskey world.
Although Irish whiskey is currently the fastest-growing global spirits category and Irish pure pot still has long been a favourite drink among whiskey critics and connoisseurs, the existing literature is still surprisingly sparse. This book illustrates the production, history, and appreciation of Irish pot still whiskey and will introduce casual drinkers to the richness of these whiskeys as well as being a collector's item for established whiskey connoisseurs.
The World Atlas of Whisky – Dave Broom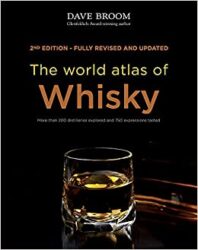 Award-winning author and whisky expert Dave Broom explores over 200 distilleries and examines over 400 expressions. Detailed descriptions of the Scottish distilleries can be found here, while Ireland, Japan, the USA, Canada and the rest of the world are given exhaustive coverage. There are tasting notes on single malts from Aberfeldy to Tormore, Yoichi (and coverage of the best of the blends). Six specially created 'Flavour Camp Charts' group whiskies by style and allow readers to identify new whiskies from around the world to try.
This extensively updated and extended edition features new material on burgeoning areas, including detailed coverage of many recently opened US craft distilleries, new distilleries in Germany, Austria and Switzerland, and discussion of the growing whisky scene in Latin America.
With over 200 beautiful colour photographs and 21 colour maps locating distilleries and whisky-related sites, this is a stylish celebration of the heritage, romance, craftsmanship and versatility of whisky.
Whisky Made Me Do It: 60 wonderful whisky and bourbon cocktails – Lance J. Mayhew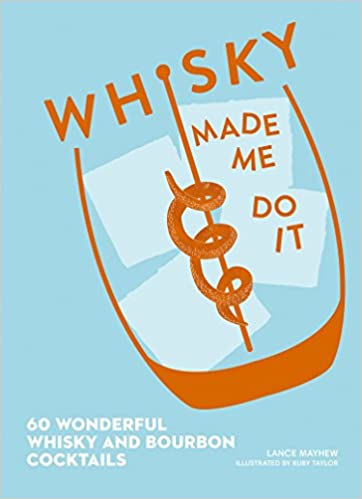 60 wonderful whisky and bourbon cocktails.
Oaky, smoky, young or old, whisky is a versatile and highly spirited spirit that has been the backbone of the classic cocktail since the old-fashioned was new. From the highlands of Scotland to Bourbon county, Kentucky, whisky distilleries have spread across the world, and today there are multitudes of styles and flavours to complement any manner of mixer. This beautifully illustrated book will introduce you to the wider world of malts, and showcase the true potential of whisky and bourbon.
In Whisky Made Me Do It, award-winning mixologist and Certified Specialist of Spirits, Lance Mayhew explains everything you need to know: how to choose the right type, mix the ultimate Manhattan and find the perfect cocktail for any occasion.
From grown-up scotch and sodas, celebratory mint juleps, or playful picklebacks, there are recipes here for any mood, any event, and any whisky-drinker.
The Dead Rabbit Drinks Manual – Sean Muldoon, Jack McGarry & Ben Schaffer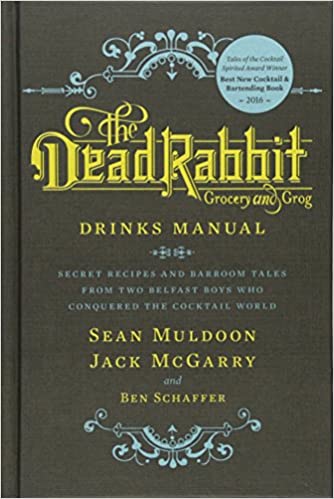 Dead Rabbit Grocery & Grog in Lower Manhattan has dominated the bar industry, receiving award after award including Best American Cocktail Bar, World's Best Cocktail Menu, and World's Best Drink Selection. Now, the critically acclaimed bar has its first cocktail book, The Dead Rabbit Drinks Manual, which, along with its inventive recipes, also details founder Sean Muldoon and bar manager Jack McGarry's inspiring rags-to-riches story that began in Ireland and has brought them to the top of the cocktail world.
Like the bar's decor, Dead Rabbit's award-winning drinks are a nod to the "Gangs of New York" era. They range from fizzes to cobblers to toddies, each with its own historical inspiration. There are also recipes for communal punches as well as an entire chapter on absinthe. Along with the recipes and their photos, this stylish and handsome book includes photographs from the bar itself so readers are able to take a peek into the classic world of Dead Rabbit. Sean Muldoon and Jack McGarry were formerly bar managers at The Merchant Hotel in Belfast.
Whisky: The Definitive World Guide – Michael Jackson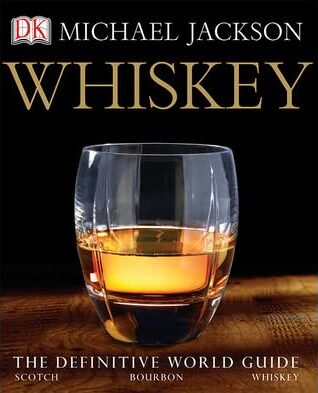 In this sumptuous coffee-table guide from the world's bestselling whisky writer, Michael Jackson reveals the secrets of the aromas and flavours found in whisky, the stories behind great distilleries around the world, and offers his expert tasting notes for their must-try whiskies.
Unrivalled coverage of the world's best whiskies and bourbon is wrapped up in this definitive guide. This new edition is full to the brim, with more than 75 distilleries added from Austria, Belgium, Denmark, England, Germany, Sweden, India, Taiwan, Australia, South Africa, and other countries in the 'New World of Whisky'. Discover an enticing new 14-page section on the US craft distilleries making a splash in the whisky world.
Learn everything there is to know about how to drink whisky, as well as how to make craft whiskies. From grain to glass, Michael Jackson's Whisky examines the world's most famous drink in all its fascinating detail.
Whiskey Women: The Untold Story of How Women Saved Bourbon, Scotch, and Irish Whiskey Hardcover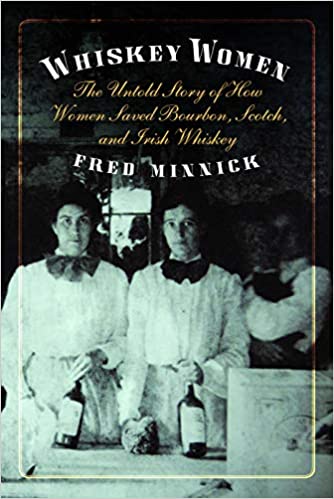 Shortly after graduating from University of Glasgow in 1934, Elizabeth Bessie Williamson began working as a temporary secretary at the Laphroaig Distillery on the Scottish island Islay. Williamson quickly found herself joining the boys in the tasting room, studying the distillation process, and winning them over with her knowledge of Scottish whisky. After the owner of Laphroaig passed away, Williamson took over the prestigious company and became the American spokesperson for the entire Scotch whisky industry. Impressing clients and showing her passion as the Scotch Whisky Association s trade ambassador, she soon gained fame within the industry, becoming known as the greatest female distiller.
"Whiskey Women" tells the tales of women who have created this industry, from Mesopotamia s first beer brewers and distillers to America s rough-and-tough bootleggers during Prohibition. Women have long distilled, marketed, and owned significant shares in spirits companies. Williamson s story is one of many among the influential women who changed the Scotch whisky industry as well as influenced the American bourbon whiskey and Irish whiskey markets. Until now their stories have remained untold. Whiskey Women has been named one of the best drink books of 2013 by Liquor.com.
Hacking Whiskey: Smoking, Blending, Fat Washing, and Other Whiskey Experiments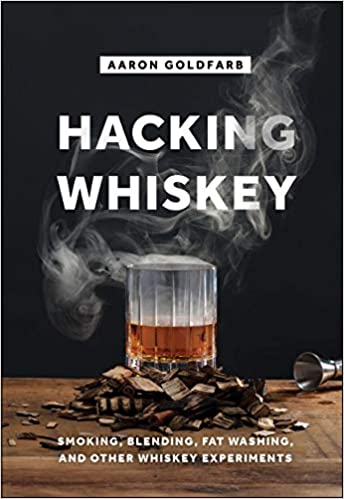 This is not your ordinary whiskey book, it's a collection of ingenious ideas and shortcuts to help you temper your whiskey to greatness in the privacy of your own home. Aaron Goldfarb, a whiskey geek (and writer), is reporting from the field, where he's gathered tips, recipes, and insider secrets about the weird yet delightful ways in which whiskey is being used today. Things like making cheap homemade blends that taste fancy, infusing whiskey with smoke, adding it to infinity bottles, and doing bone marrow luge shots, to name a few.
So get your hands wet (and your house smoky) and take him up on the challenge of upgrading your whiskey (just don't forget to brag about it online).
McCarthy's Bar: A Journey of Discovery in Ireland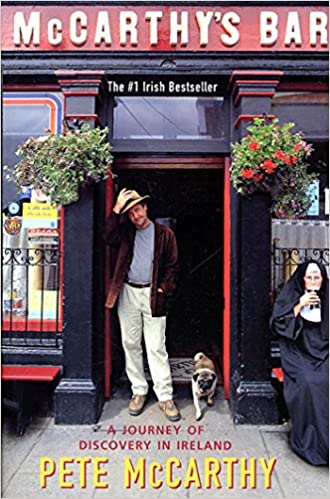 Despite the many exotic places Pete McCarthy has visited, he finds that nowhere else can match the particular magic of Ireland, his mother's homeland. In McCarthy's Bar, his journey begins in Cork and continues along the west coast to Donegal in the north. Travelling through spectacular landscapes, but at all times obeying the rule, "never pass a bar that has your name on it," he encounters McCarthy's bars up and down the land, meeting fascinating people before pleading to be let out at four o'clock in the morning.
Written by someone who is at once an insider and an outside, McCarthy's Bar is a wonderfully funny and affectionate portrait of a rapidly changing country.
Have we missed any? Reply on any of our Facebook, Twitter or Instagram posts and let us know. We'll include them on a follow-up list.
Interested in things like this?
To Join In with Whiskey Club, you can follow us on social media, visit our website, attend our events or subscribe to our free monthly newsletter. All newsletter subscribers will automatically be entered into our draw to win a whiskey gift or experience each month.